"Tattooing is a political act"
Ouri was barely 20 years old when he first discovered the world of abstract tattoo. Now at 23, he's weathered three years of experience practicing in his very own tattoo parlor. I had the chance to meet with this quick learner and fabulous human being, who told me about his work and the philosophy behind it.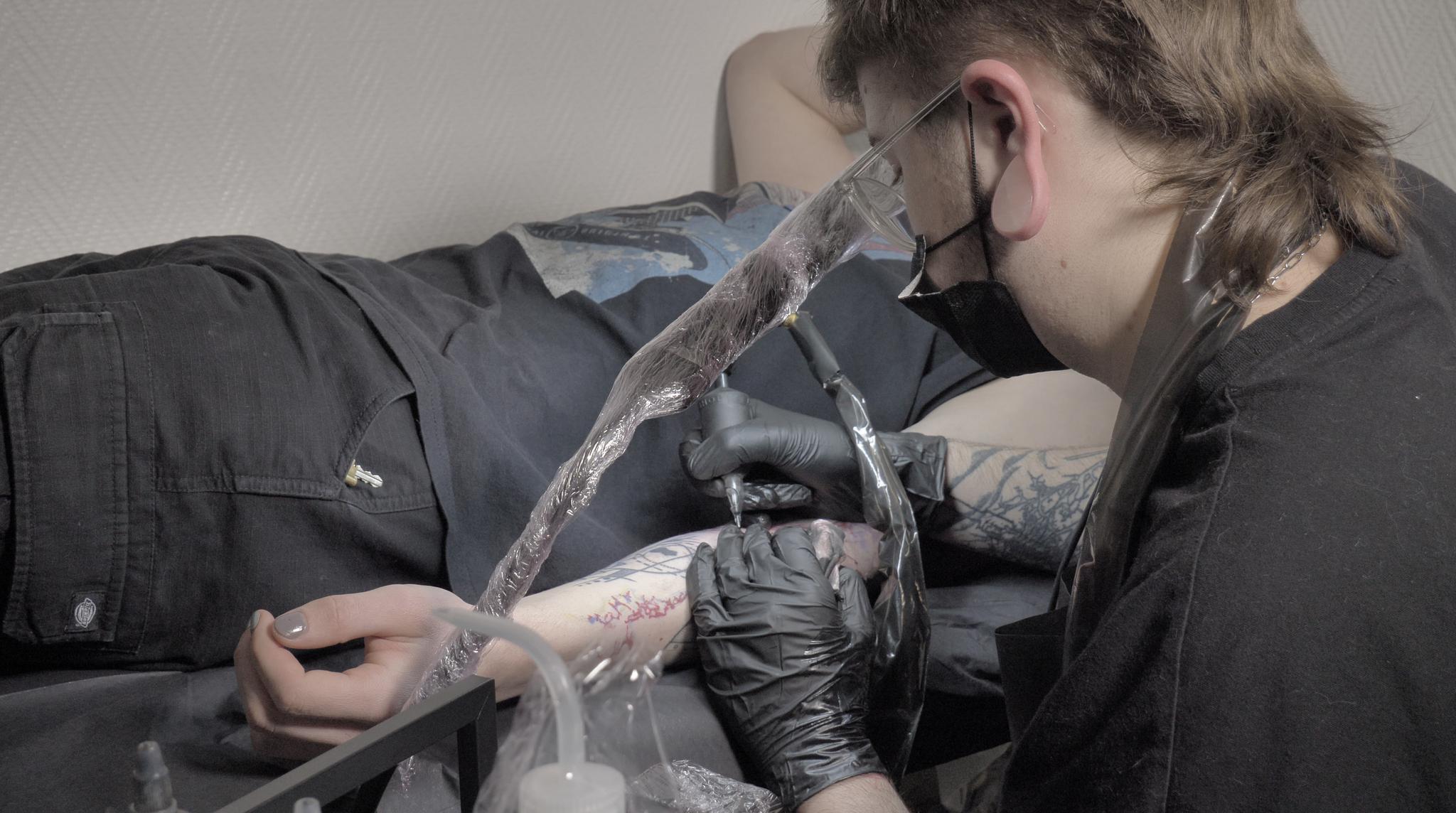 Why did you want to become a tattoo artist?
I've always had a connection with art, and I've always viewed life with artistic vision. I got a degree in audiovisual media studies though I have drawn artworks for as long as I can remember. Upon getting my first tattoo, I realized tattooing could become a natural way to express myself and my art. Art has been the only thing to really make me feel alive and productive. So, when I got this tattoo, I thought: "Why not go for it?"
So you immediately decided to change your plans?
No, I slowly learned my ways from an abstract tattoo artist who helped me overcome my complexes. He was the first person I ever shared my drawings with. I felt completely illegitimate, like I was not able to tattoo anyone. It was such a big deal, it was a whole new world for me, and I was having a hard time imagining that people could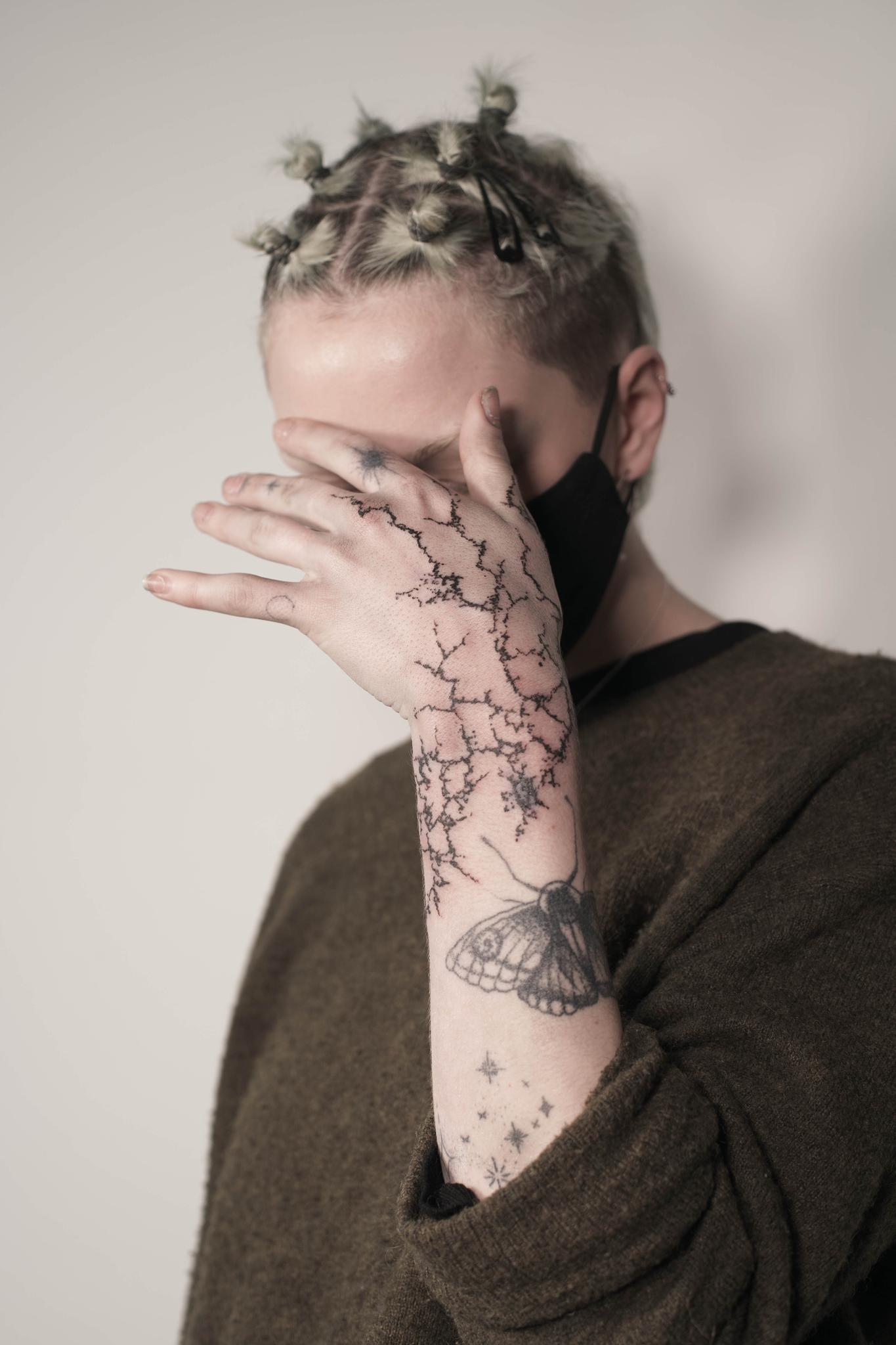 find interest in my work! I felt more legitimate after I entered the tattoo world, making friends in its community. The abstract tattoo community is really small and rich in quality. It felt as if I had joined a new, small family.
How do you define abstract tattoo?
It's like any abstract art, widely speaking. It is the opposite of figurative art, the drawing doesn't represent anything in particular. It's rather free. When I do it, I don't want to represent anything, but sometimes, people do see things in the drawing.
How do you proceed?
People come and see my work beforehand, then choose something that suits them in terms of aesthetic and texture. We decide where to place it on the body. I try to build something.
Could you tell me about your favorite piece so far?
This one.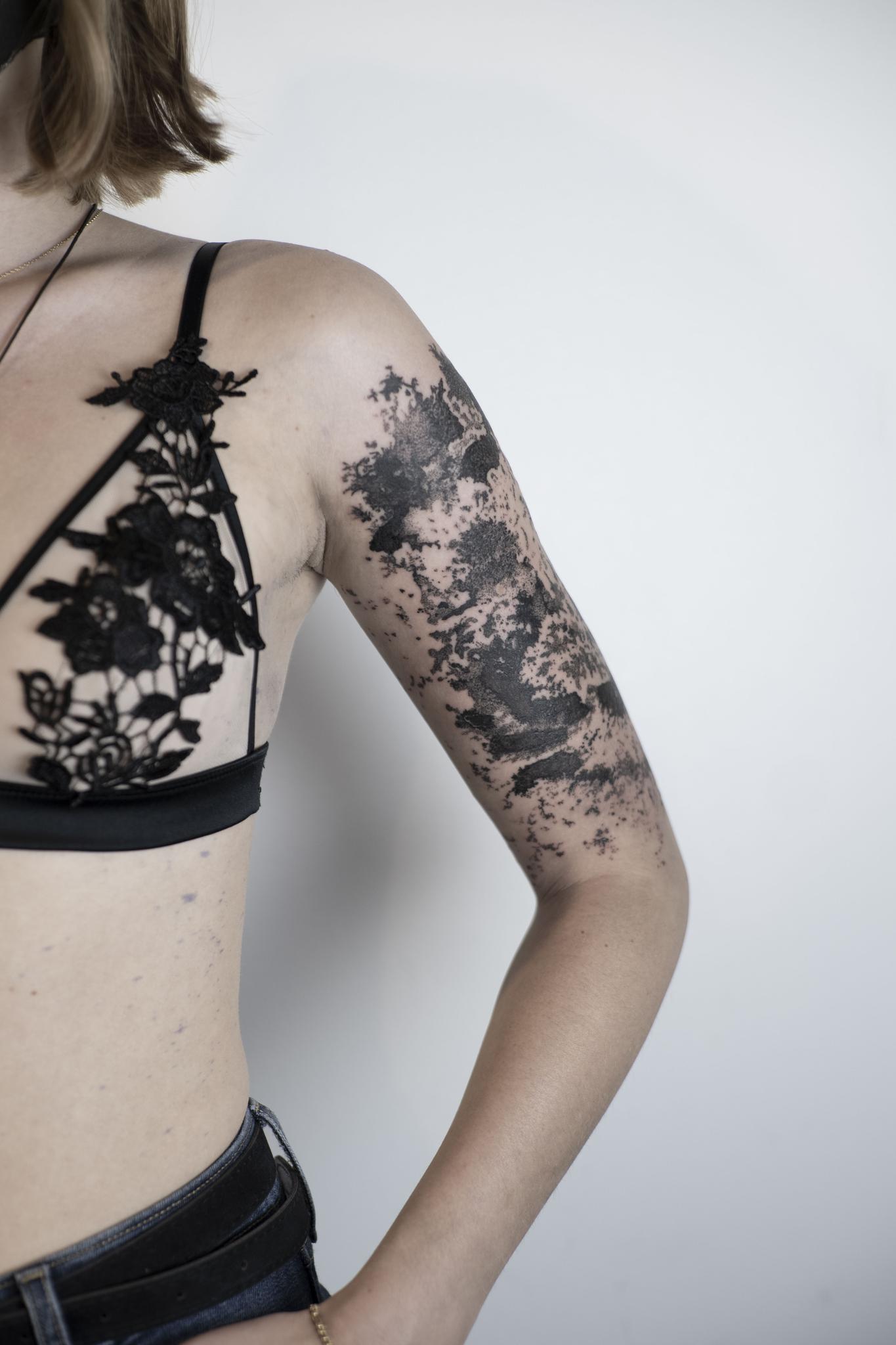 It was very challenging. I love how I managed to create an organic effect. It took me seven hours, so it was pretty exhausting. In terms of layers of grey, ect, it was a very important step in my career. I kind of proved to myself that I was able to do it. It was in 2020.








Is there a client you remember in particular?
The human dimension is really important, more than in other arts, and more in abstract than in the regular tattoo world. Indeed, a few people really left a mark on me. In a certain way, I am looking for the experience to be fulfilling for the client and for me as well. Sometimes the relationship we create is truly amazing.
These past few years, more and more people, in France and in Europe, chose to get tattooed: it is not underground anymore. Is it a good or a bad thing?
A bit of both, because this is how capitalism works. This system makes us believe we become interested in a certain thing because it is a choice we made, because we have free will. But we don't. Capitalism influences our everyday lives, our intimacy, and what we decide to do to our bodies. Now, as far as I'm concerned, I try to propose an opposite approach, in which the philosophy of absurdism plays a role. You don't need to always have a meaning, you don't have to be limited by structures that have already been created by the human brain, by the system, by language.
I guess the people who come to you share your philosophy, more or less.
Yes. I think my work has become a language for me, especially as an introvert who has a difficult time talking about his art. I love transmitting. I also like the idea of working outside any system of oppression- in which marginalized people live. My clients are, well most of them, people who are oppressed and marginalized. For tattooing, you must educate yourself on how to welcome people in a caring way, because the client is in an extremely vulnerable situation. They trust you. You are going to leave a mark on their skin forever. It is a political act.